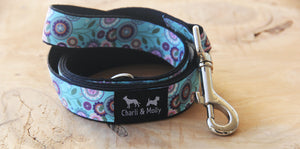 Named after Tully the newest Kelpie in the Charli and Molly ownership, she has been cheeky and like all Kelpies melting into our hearts. We picked this style for her when she was born and it loves nothing more than being in the open fields running after birds, dogs, leaves and anything that moves.

100% hand made in Australia
Made from high density polyester or nylon webbing for extra strength and durability
Lightweight and strong
Heavy duty swivel snap clip
Handy D ring on the handle to attach our custom doggy bags or keys
All leads are 1.3m long, custom length available on request.
Standard width of 26mm to match your SMALL - LARGE collar