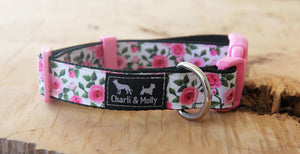 Everyone loves roses, don't wait till Valentines day. This gorgeous pink on white roses will make any womans day.
Hand made in Australia
Made from high density polyester or nylon webbing for extra strength and durability
Soft and comfortable feel
Light weight and strong with high quality welded D ring 
Super strong heavy duty contoured plastic buckle
Please note sizing below and available widths.
X-SMALL - 20mm wide
SMALL - LARGE - 25mm wide
X-SMALL
22-34cm
suitable for Puppies, Mini 

Dachshund

SMALL
29-43cm
suitable for Pug, Jack Russell, Terriers
MEDIUM
35-53cm
suitable for Kelpie, Spaniel, Labradoodle
LARGE
42-68cm
suitable for Labrador, Ridgeback