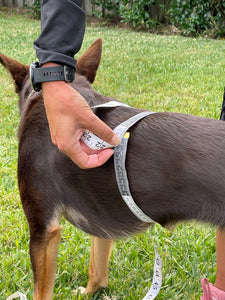 If your furkid doesn't quite fit our measurements or is small or large (we don't judge) we can custom make a coat for you. Who doesn't love a custom made outfit! Our handmade dog coats will be made to your furkid measurements.
Grab a tape measure and try not to wriggle too much and measure three specific points for us to know how big it needs to be.
A- Across the top back / B - Girth / C - Neck/Front Chest
Input your measurements (cm) and style choice into the boxes and the Charli and Molly team will contact you to create your custom coat.
All measurements are in CM
Need a custom coat, simply put the order through it won't charge you and we will be in touch to arrange it for you and confirm costs based on size of coat. Any other questions simply click on email link below.