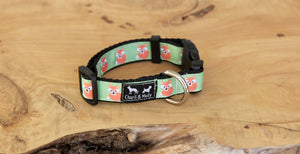 Sneaking at night through the bushes, unfortunately you won't be hidden with Foxy Loxy around your neck. A bit of fun with an overload of cuteness.
Hand made in Australia
Made from high density polyester or nylon webbing for extra strength and durability
Soft and comfortable feel
Light weight and strong with high quality welded D ring 
Super strong heavy duty contoured plastic buckle
Please note sizing below and available widths.
X-SMALL
22-35cm
suitable for Puppies, Mini 

Dachshund