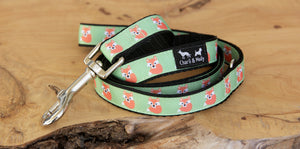 Sneaking at night through the bushes, unfortunately you won't be hidden with Foxy Loxy around your neck. A bit of fun with an overload of cuteness.
100% hand made in Australia
Made from high density polyester or nylon webbing for extra strength and durability
Lightweight and strong
Heavy duty swivel snap clip
Handy D ring on the handle to attach our custom doggy bags or keys
All leads are 1.3m long, custom length available on request.
Thin width of 20mm to match your X-SMALL collar